How can i create sitemap for wapka site
Search engine optimization have a key role to run a website successfully.
Search engines automatically crawl your web sites automatically and optimize your site for search but some times it take long time to index your site automatically and have more chance to miss your important links.
So if you want to optimize your site manually you need to give site maps to search engines.
Site map is a XML file that consist all links from your website.
By submitting site maps search engines can easily index your all pages from your site and get more traffic from search engines.
This post tells you How to create Site map for your mobile website build with wapka.
Step 1: Log in to your wapka site Admin Mode
Step 2: Click on ::Edit Site::
Step 3:Click on Global Setting
Step 4: Click on HEAD tags (meta,style,...)
Step 4: Click on Edit sitemap file (sitemap.xml)
Step 5: Insert Site ID and Click on Set button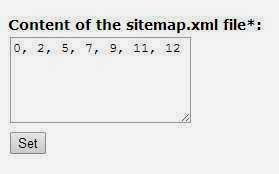 Separate Site ID with Comma (0,1,2,3,4,5)
To add forum links just insert f&forum ID (Eg:- f12345)
Your Sitemap generated successfully!
Your Sitemap located at
address.wapka.mobi/sitemap.xml
Just submit your sitemap on popular search engines like Google, Bing, Yahoo, etc