How to run android apps on pc window
If you are an Android Fan and want to run your favorite Android applications on your Windows PC then you have come to the right place.
Running Android games and apps on Windows PC is now possible by using the software:
1.BlueStacks App Player Beta
Running Android Applications using BlueStacks App Player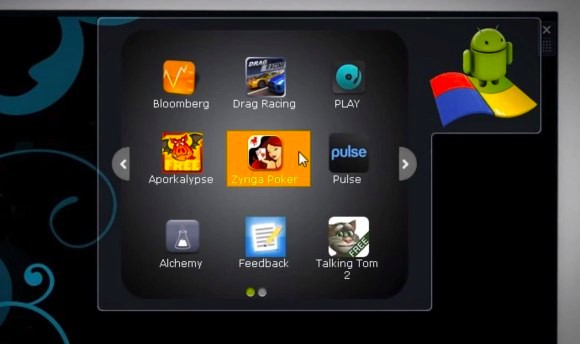 BlueStacks
BlueStacks is company developing software to bring Android applications right on your desktop PC.
BlueStacks has developed its latest App Player Beta which works on its "LayerCake" technology and can run Android apps and games in full screen and windowed mode. It has won the Best Software Award at CES 2012.
The software allows you to run your Android apps and games right on your desktop PC that you might enjoy on your Android smartphone or tablet.
It comes with some preloaded Android apps and millions are available for download.
It also allows you to sync apps from your smartphone or tablet to your PC. You can enjoy those Android apps also on your PC that you have purchased for your Android device.
This software also has a virtual accelerometer support which can be controlled by the arrow keys of the keyboard. So this software is just like an
Emulator
for an Android Device. It is also available for Mac OS X as
BlueStacks for Mac OS X.
Minimum System Requirements
OS
:Windows XP/ Windows Vista/ Windows 7/ Windows 8 (All 32bit. Does not work on 64bit)
Processor
:Intel Pentium 1.66 GHz CPU or higher
RAM
:1GB 2GB
Graphics
:500 MB
Advantages
1.Runs most of the Android Apps on Windows PC
2.Can synchronize apps between Windows and Android
3.Has accelerometer support (can be controlled by the arrow keys of the keyboard)
4.Supports full screen and windowed mode.
Disadvantages
1.Runs only on 32bit systems
2.Does not run on a system having RAM less than 2GB
Download
You can download the latest version of BlueStacks for free from the below link:
Free
Download Bluestacks App Player Latest Version
Size
: 8.8 MB
How to Install and Use
1.First download the BlueStacks App Player installer from the above link and the run the executable file thus downloaded.
2.The installer will start. Then just accept the license agreement and click
Next
.
3.Then choose
Install
, the installer will download the required files and will complete the installation.
4.After the installation, start BlueStacks from the All Programs of the Start button of your Windows.
5.Just wait and after that you will see the welcome screen of the Bluestacks App Player.
6.To run an apk file, just double click on it.
7.Enjoy running Android Apps on Windows.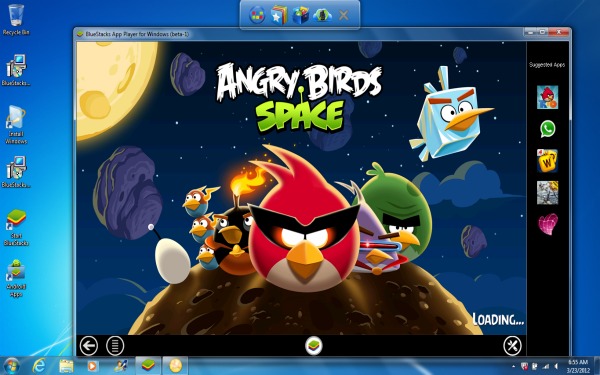 BlueStacks-Angry Birds on Windows
you may also like this
how to run java application on window pc